2nd Vice-Chair - Don Parazo, M.D.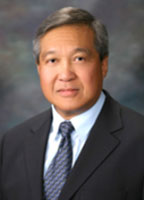 Don Parazo, M.D., is board certified as a family practitioner and gerontologist. He joined High Desert Medical Group in 1987 where he currently holds a variety of leadership positions. A member of the Antelope Valley Healthcare District Board of Directors for many years, he served as chairman for four years and has twice been named Trustee of the Year by the Association of California Healthcare Districts (ACHD).
Before coming to California, Dr. Parazo earned a medical degree from Texas Tech University School of Medicine in Lubbock and performed his family practice residency at R.E. Thomason General Hospital in El Paso. After completing medical school, Dr. Parazo was awarded a Naval Health Professions scholarship. He went on to serve our country in the U.S. Military where he held the position of chief of family practice at El Toro MCAS in Santa Ana, California. At that time he also maintained a Family Practice office at Long Beach Naval Hospital. When he left the Navy, Dr. Parazo had reached the rank of Lieutenant Commander.
Following an exemplary career in the U.S. Navy, Dr. Parazo shared his medical acumen with students at the reputable Glendale Adventist Family Practice Residency Program, where twice he received the Clinical Teaching Award given to him by the staff.
Dr. Parazo is actively involved in the local community as well as in statewide health-related initiatives. He is a member of the California Medical Association, American Association of Family Practice, and American Medical Association.