Chief Financial Officer - Fred Vitello, CPA, MBA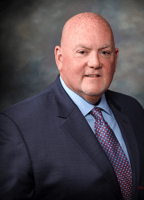 Fred Vitello brings more than 35 years of Healthcare Finance experience to Antelope Valley Medical Center.
Throughout his career, Vitello has successfully implemented financial improvement initiatives at hospitals all over the United States. In recent years, Vitello has led numerous turnarounds and redesigns at hospitals in several states. Among other roles, he has previously held Chief Financial Officer positions in California, New York, Michigan, Massachusetts and the Virgin Islands.
Immediately prior to coming on board at AV Hospital, Vitello successfully provided financial leadership throughout the COVID19 pandemic as interim CFO at Mad River Community Hospital in Humboldt County, California. He was instrumental in securing necessary COVID funding for the hospital as well as providing leadership with COVID Vaccination and Testing Clinics.
Vitello has served in financial leadership roles at hospitals ranging in size from 25 bed Critical Access Hospitals to 800 bed teaching hospitals. Over the past 20 years, his focus has often been largely focused on improving Revenue Cycle in healthcare organizations. As VP of Revenue Cycle, he was instrumental in a monumental financial turnaround at Trinity Health System in North Dakota, that ultimately resulted on the building of a new hospital.
Joining AV Hospital in May 2021, Vitello is particularly excited to focus on growth of services at the hospital while looking forward to the potential of building a new hospital.
Originally from Philadelphia, Vitello holds a Masters Degree in Finance from La Salle University, a Bachelors Degree in Accounting at Temple University. Vitello is also a Certified Public Accountant (CPA).