Secretary - Abdallah Farrukh, M.D.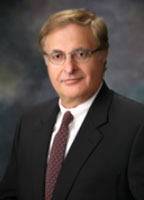 Abdallah S. Farrukh, M.D., is a board certified neurosurgeon. He is serving a fifth consecutive four‑year term on the board of directors for Antelope Valley Medical Center, where he is also a member of the medical staff.
Born in Beirut, Lebanon, Dr. Farrukh is an American citizen who performed a residency in general surgery at Union Memorial Hospital and a neurosurgery residency at Johns Hopkins Hospital, both in Baltimore, Maryland.
Dr. Farrukh served as chief of staff at Palmdale Regional Medical Center from 1983‑84 and as chief of surgery at AVMC in 1995. He was chief of staff at AVMC from 1996‑99.
Consistently active in the medical community, Dr. Farrukh has presented numerous lectures on a variety of neurosurgery topics at conferences around the U.S.