Careers
Join Us to Do What You Love.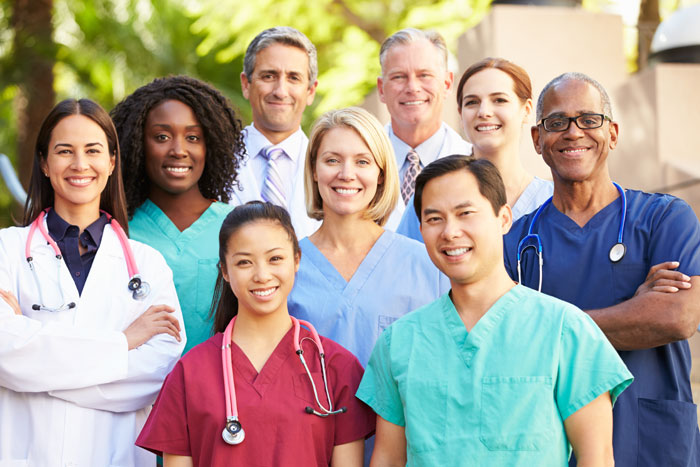 Join us because you share our commitment, vision and values for providing high quality healthcare in a supportive environment.
Join us to learn and grow.
Working at Antelope Valley Medical Center is more than just a job. We're a team! Teamwork, compassion, accuracy and efficiency are critical factors in our day‑to‑day success. We are proud of our deep roots in the community and 65‑year track record of performing to the highest medical standards.
We offer a full range of rewarding healthcare careers in an exceptional environment.
Our Core Values
PATIENTS COME FIRST. We listen actively and communicate with our patients and families, placing safety as a top priority.
ACCOUNTABILITY & OWNERSHIP. We fully complete tasks, are transparent, effectively communicate, and recognize that what we do reflects on us.
TEAMWORK. We build trusting relationships, promote a sense of community, and are respectful of everyone. Success is about the whole team.
INTEGRITY & HONESTY. We tell the truth at all times, speak up when something is wrong, and do the right thing when no one is looking.
EXCELLENCE. We take pride in our work, are goal-oriented, and on a never-ending quest for top tier quality.
INITIATIVE & INNOVATION. Our can-do attitudes, creativity, and resourcefulness empower us to improve the patient's experience, solve our own problems, make timely decisions, and look for opportunities to add value.
TENDERNESS & COMPASSION. We have genuine empathy, show kindness, and encourage and advocate for each other.
Benefits & Amenities
Antelope Valley Medical Center offers a supportive environment with opportunities to expand your knowledge and grow your career, with a competitive salary and generous benefits package including:
Comprehensive healthcare coverage for you and your family

Medical, dental, and vision with EPO, PPO and HMO plan options, including a cost‑saving prescription (Rx) program

Employee benefits at NO COST TO YOU:

Basic life, accidental death and dismemberment insurance
Long‑term disability insurance
Employee Assistance Program (EAP) services

Voluntary benefits and tax‑saving plans

Supplemental life insurance
Healthcare and dependent care flexible spending accounts (Pre-tax benefit)
Universal life with long‑term care insurance
Critical illness, short‑term disability and accident insurance

Paid time off

PTO program combines vacation, holiday and one‑half sick benefits into a single PTO bank

Retirement plan

AVMC retirement plan is a defined benefit plan. Participation is automatic once meeting eligibility requirements of one year of service and over 1,000 hours worked.
As of January 1, 2013 AVMC falls under the PEPRA (Public Employees' Pension Reform Act of 2013). This law requires employees hired after January 1, 2013 to contribute to their pension plan.

403(b) Retirement (Pre-tax savings)

AVMC sponsors a 403(b) voluntary retirement plan for all employees to participate in pre-tax salary deferral contributions.

Education tuition reimbursement

AVMC supports the professional growth of employees by offering financial assistance for tuition and books to eligible employees in qualified programs.
The Antelope Valley
Whether you are relocating to the area or commuting in, Antelope Valley has something for everyone. Antelope Valley Medical Center is located in the northern region of Los Angeles County providing access to all the amenities Southern California has to offer – from the natural beauty and outdoor adventure of our deserts, mountains and beaches, to the endless range of athletic and cultural events. The Antelope Valley community offers something for everyone. A vibrant spirit and a richly diverse population make this growing region a destination of choice for many healthcare professionals.
Work With Us!
We invite you to take a look at our open positions and become a vital member of our extraordinary team. To get you started, we have included some helpful tips to assist you through the application process.
Job Description Information
The job description information is critical to determine your qualifications for the position. Please read and understand the requirements of the position prior to submitting your application. Key areas for you to review and follow:
Read the job description information thoroughly before submitting your application
Review the following sections:

Shift and Full-Time Equivalent (FTE)
Duties and Responsibilities
Knowledge, Skills and Abilities
Education and Experience
Required Licensure and/or Certifications
How to Apply
DO NOT SHARE YOUR ACCOUNT INFORMATION. You must submit an application using your own account for every position you'd like to be considered for. You are encouraged to apply for multiple positions, as long as, you meet the qualifications for that position.
***IMPORTANT NOTICE: BE AWARE OF POTENTIAL FRAUD***
Only applicants who apply by the means of this page will be contacted for interviews. Other websites and job boards such as Indeed or LinkedIn, will redirect you to the Antelope Valley Medical Center Jobs page to submit your application.
ALWAYS verify that emails from people claiming to be Antelope Valley Medical Center officials/representatives are in fact from email addresses ending in @avmc.org. Antelope Valley Medical Center representatives will NEVER use a Gmail, Yahoo, Hotmail, etc. in any correspondence with you.
Antelope Valley Medical Center will NEVER ask for confidential and personal information via phone or email.
Antelope Valley Medical Center does not request or require the payment of any fees or the purchase of any items during the selection process, nor will issue any funds to applicants prior to completing the onboarding process.
If you or someone you know experience any suspicious behavior---cease all communications with the individual and make AVMC aware by submitting a Contact Us form.
Internal Candidates
Already a staff member at AVMC, click here for current job opportunities.
Employees will use their AVMC email and password to access the UKG Dimensions site. Job search is under the My HCM Dashboard.
External Candidates
Click here to find your new career with AVMC.
Candidates please note:
Join us because you share our commitment, vision and values for providing high quality healthcare in a supportive environment.
Equal Employment Opportunity Statement
Antelope Valley Medical Center provides equal employment opportunities to all employees and applicants for employment and prohibits discrimination and harassment of any type without regard to race, color, religion, age, sex, national origin, disability status, genetics, protected veteran status, sexual orientation, gender identity or expression, or any other characteristic protected by federal, state or local laws.
This policy applies to all terms and conditions of employment, including recruiting, hiring, placement, promotion, termination, layoff, recall, transfer, leaves of absence, compensation and training.