PGY1 Pharmacy Residency
Program Overview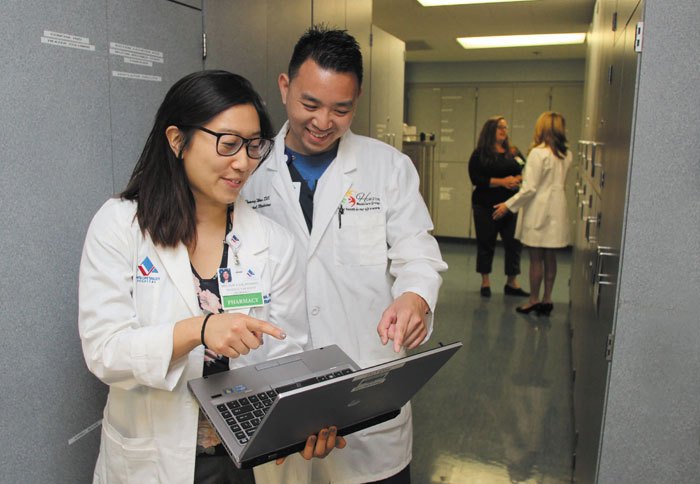 Antelope Valley Medical Center's PGY1 Pharmacy Residency Program gives motivated, self-directed individuals the opportunity to gain the necessary skills to become a clinical pharmacist in a supportive, real world environment. In compliance with accreditation standards set by the American Society of Health System Pharmacists, the pharmacy residency program allows participants to expand their clinical knowledge and gain practical experience in diverse, multidisciplinary settings. The program consists of a one-year postgraduate intensive training experience primarily in the area of acute pharmacotherapy.
About Us
The pharmacy at AVMC is a fast-paced, highly functioning department that provides 24-hour care and a full range of clinical services including antimicrobial stewardship, anticoagulant and pharmacokinetic dosing utilizing a decentralized staffing model. Our pharmacists provide direct patient care in most areas of the hospital including the Emergency Department, ICU, NICU, Progressive Care Unit, and all telemetry monitored areas. The pharmacy department also provides extensive pharmacy student clerkship rotations.
About Lancaster, California
Lancaster is located approximately an hour northeast of downtown Los Angeles in Southern California's High Desert region. With the adjoining city of Palmdale, the Antelope Valley is home to almost a half a million people, including many employed in healthcare, aerospace and the military. Lancaster is home to historic Lancaster Blvd, which boasts dining, shopping, museums, and the Lancaster Performing Arts Center. With a hometown feel, Lancaster still offers all the amenities needed to live and work, and is only a short hour drive to both the beach and the slopes.
Rotations
Core Rotations
Orientation and Hospital Practice
Internal Medicine
Critical Care
Emergency Medicine
Infectious Disease
Administration
Longitudinal Rotations
Drug Information and Education/Teaching
Clinical Research Project
Staffing and Professional Development
Elective Rotation Options
Advanced Critical Care
Advanced Emergency Medicine
Pain Management
Pediatrics/NICU
Trauma
Research Project
All residents will complete a year-long quality improvement project suitable for publication based on departmental needs and resident interest. Residents will participate in project and study design, implementation of project, IRB paperwork and approval, and data collection. In addition, each resident will present a poster at ASHP Midyear Clinical Meeting in December, and the final product will be presented at the Western States Residency and Preceptor Conference held in May. The project must also be submitted in written form as a manuscript prior to the completion of the residency year.
Staffing Requirements
Residents will staff a variety of clinical and distributive shifts in the pharmacy department throughout the year. Residents are required to staff one weekend per month.
Teaching Certificate
In conjunction with the University of the Pacific (UOP) and the American Pharmacists Association (APhA), all residents will earn a teaching certificate. In addition to completing an Advanced Preceptor Training Program, residents will co-precept at least one APPE student, provide a presentation at a regional APPE Conference, and participate in additional learning activities including review of student journal clubs, projects, research projects, and letters of intent for residency applications, participate in the critique of student drug information responses, and evaluate student topic discussions and case presentations.
Salary and Benefits
Stipend: $50,000
Benefits: Medical, dental, vision, 10 days paid vacation and 7 paid holidays
Application Information
Status: Accredited
Number of residents/year: 2
NMS code: 223613
Beginning date: July 1, 2024
Application Deadline: January 4, 2024
How to Apply: Applications available through PhORCAS; Required application materials include

ASHP residency matching program registration
PhORCAS Residency Program Application
Letter of Intent
Transcripts
Three letters of recommendation completed on the PhORCAS template
Curriculum Vitae
Contact Us
For more information, contact:
Julie Snyder, PharmD, BCPS, BCCCP
Residency Program Director
julie.snyder@AVMC.org
661-949-5033