Surgery Center in Lancaster, CA
One of the top surgical centers in Los Angeles County, performing nearly 8,000 surgeries a year.
Antelope Valley Medical Center offers a wide range of surgical options for the treatment of adult and pediatric patients. Our board‑certified surgeons are supported by skilled anesthesiologists, registered nurses, and technologists.
Highly trained surgeons perform surgeries in:
General
Orthopedic
Neurologic
Bariatric
Gynecologic
ENT
Urologic
Vascular
Trauma
More than 1/3rd of all surgeries are now performed as minimally invasive procedures, in which physicians use the most advanced technology available for laparoscopic and robotic surgery.
Our hospital is experienced in and accredited to perform some of the most complex surgical procedures, including anterior hip replacement, pelvic fractures, and laparoscopic hand-assisted bowel resections.
Technology
Our surgical suites are equipped with state‑of‑the‑art video systems to enhance the surgeon's capabilities. Our DaVinci Xi robot allows surgery that is ultra-precise, and less invasive. This cutting-edge technology, paired with unparalleled surgical expertise, allows AVMC to offer robotic surgery options for urologic, gynecologic, and ENT concerns, to name a few.
With this new technology, and depending on the surgery, patients may result in shorter hospital stays and have a lower rate of complications than open surgery. Some features that benefit patients are: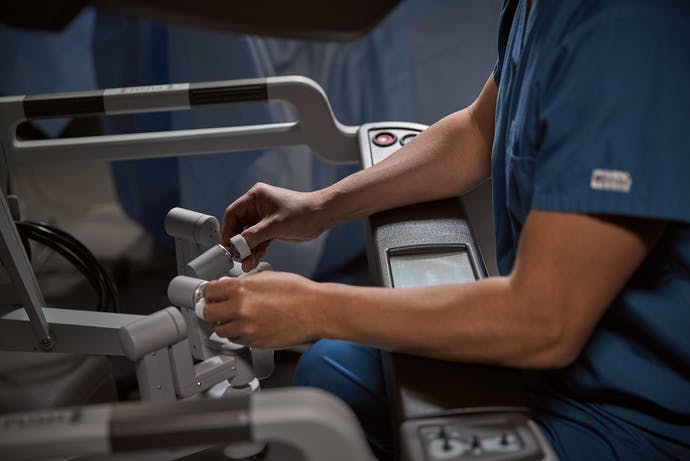 3D high-definition camera: this allows the surgeon to see a crystal clear, magnified view of the patient's anatomy
Access: the surgeon is able to access hard-to-reach places
Precision: tremor control and accuracy of small instruments
Robotic Surgery
Antelope Valley Medical Center offers the latest in surgical options including minimally invasive laparoscopic procedures and robotic surgery when appropriate. This approach allows the surgeon to use innovative scopes and other imaging tools to view and operate through small incisions rather than a large open incision.
AVMC has completed more than 2,500 robotic-assisted surgeries. Types of robotic-assisted procedures performed include hernia repair, hysterectomy, and colectomy to name a few.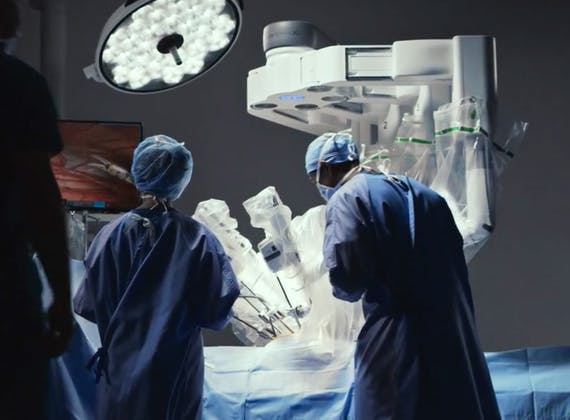 ​
​
As a result, most patients experience shorter hospital stays, less post‑operative pain and faster recovery times than traditional surgeries. Such procedures have been shown to result in cancer survival rates that are equal to traditional open procedures.
Neurosurgery
The AVMC team of specially trained neurology and neurosurgery experts focuses on the prevention, diagnosis, and treatment of disorders that affect the nervous system including the brain, spinal column, spinal cord, and peripheral nerves. Our physicians combine cutting‑edge research and innovative techniques to deliver comprehensive, personalized care for a wide range of conditions.
Pre-Op Area
One person may accompany the patient to pre-op for initial preparation. Once the patient is ready, two people at a time can be escorted to the pre-op area.
Post-Anesthesia Care Unit (PACU)
After surgery, the surgeon will visit the waiting area to update family and/or friends. At this time, the patient will be transferred to PACU to be monitored as they awaken from anesthesia. This usually takes 1.5-2 hours. Family and/or friends will be notified when the patient has been assigned a hospital room.