Event Details
Evening of Remembrance & Celebration of Perseverance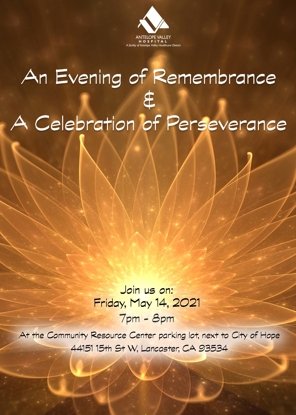 About This Event
Event Type:Community Event
Details:
As AVMC comes together, joined by the community,  to remember those that we have lost due to COVID-19 and pay tribute to those that persevered through it all. A blessing will be made to our community and AVMC family for their perseverance during one of the most difficult years in healthcare history.
We will come together to collectively share our experience, heal together, celebrate the determination of our community, and embrace the hope for tomorrow.
For those present we will hold a lit vigil (using our phone flashlights), and ask those joining us from their home or business, to leave their outdoor lights on.
Friday, May 14, 2021
7:00 pm to 8:00pm
Hope you can join us!
Registration