Eight Students Begin Healthcare Careers with $1,000 Auxiliary Scholarships
(LANCASTER, Calif. – June 12, 2020) — The Antelope Valley Medical Center (AVMC) Auxiliary presented $1,000 scholarships to eight local high school seniors. Chosen from a pool of 28 applicants, each recipient has a minimum 3.5 grade point average and has been accepted to study a health career curriculum at an accredited college, university or technical school.
"I'm very proud of all of them for giving their all, despite the uncertainty and difficulties of the last few months, I'm certain they will all achieve great things in the future" said Volunteer Supervisor Dennis Mortimer.
The following students were the recipients of this year's awards:
Brianne Conway, Desert High School
Xochilt Lorenzo, Knight High School
Sona Davtyan and Karen Garcia, Palmdale Aerospace Academy
Alysha Dijamco, Quartz Hill High School
Roxan Barakat, Lancaster High School
Karely Rosales, SOAR High School
Michael Maida, Desert Christian High School
The AVMC Auxiliary raises funds for the hospital through the hospital gift shops, New to You Thrift Shop, auxiliary bake sale and other seasonal fundraising events. In addition to its annual health career scholarships program, some of the auxiliary's past pledges benefited the Women and Infants Pavilion, OB clinics, neonatal intensive care unit, emergency department expansion, and state-of-the-art equipment for the critical care unit.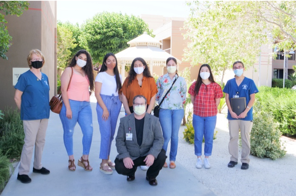 Pictured from left to right: Marsha Pedersen (Auxiliary Parliamentarian), Roxan Barakat, Xochilt Lorenzo, Karen Garcia, Karely Rosales, Alysha Dijamco, Sona Datvyan
Center: Dennis Mortimer (Volunteer Supervisor)
Not Pictured: Brianne Conway, Michael Maida