AVMC 1963 Seismic Retrofit Project
What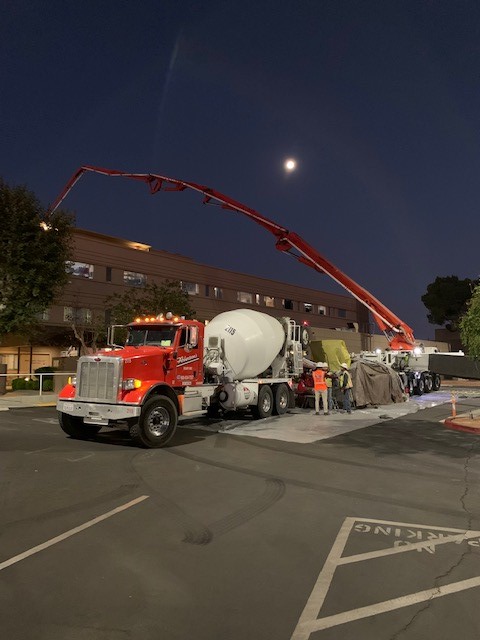 AVMC is undergoing a California Mandated Retrofitting project to seismically reinforce different walls, columns and struts throughout the building; and install new ones as determined by Structural Engineers. This is to make the building structurally stronger and to meet the minimum new California Seismic requirements.
Teams are drilling into columns, inserting new rebar to existing concrete walls, columns and struts. Forming has been installed and now we are placing concrete. These concrete columns are throughout the building and are within the core of the hospital on different floors. The challenge is to get the concrete to these locations. This is done by drill holes through the roof and floors of the hospital and inserting a concrete pump hose through the holes.
To get the concrete from ground level to these locations, a large concrete pump is used. The pump needs to reach from the ground, over the 1954 wing, and to the center of the 1963 wing, and through the holes in the roof and floors. This is done with a 63Z- Meter JLS Concrete Pumping Truck. This is one of the largest pumps in the world. There are only 3 of these in the western hemisphere. The Front Outriggers spread 37' and the rear outriggers spread 40". It takes well over an hour to maneuver the truck, and set it up for the pour; and the same to clean and remove.
When
We have completed two of these concrete placements with this pump and have one more to go which is planned for the weekend of 10/8/21.
Where
Antelope Valley Medical Center
1600 West Avenue J, Lancaster, CA 93534