AVMC Surgeons Provide Hope with New Robotic-Assisted Surgery
AVMC recently obtained the DaVinci Xi to perform less-invasive procedures.
(LANCASTER, Calif., August 10, 2022) — Patients are still postponing medical appointments, routine checkups, and treatment of a new/existing condition, elective procedures, or cancer treatments----just some of the lingering effects of COVID-19. Many patients have delayed or postponed needed procedures, over safety concerns, which have resulted in placing their health and well-being at risk.
Some illnesses simply can't wait. If your doctor has already determined that you need surgery, now there's no need to delay. Ignoring something that requires surgery can result in prolonged pain, worsening of the condition (such as the spread of cancer), or even emergency surgery. Robotic-assisted surgery may be an option that helps get patients home soon and safely. This minimally invasive surgery provides the patient with fewer and smaller incisions. To date, AVMC has completed more than 2,500 robotic-assisted surgeries. Types of robotic-assisted procedures performed include hernia repair, hysterectomy, and colectomy to name a few.
With this new technology, and depending on the surgery, patients may result in shorter hospital stays and have a lower rate of complications than open surgery. Some features that benefit patients are:
3D high-definition camera: this allows the surgeon to see a crystal clear, magnified view of the patient's anatomy
Access: the surgeon is able to access hard-to-reach places
Precision: tremor control and accuracy of small instruments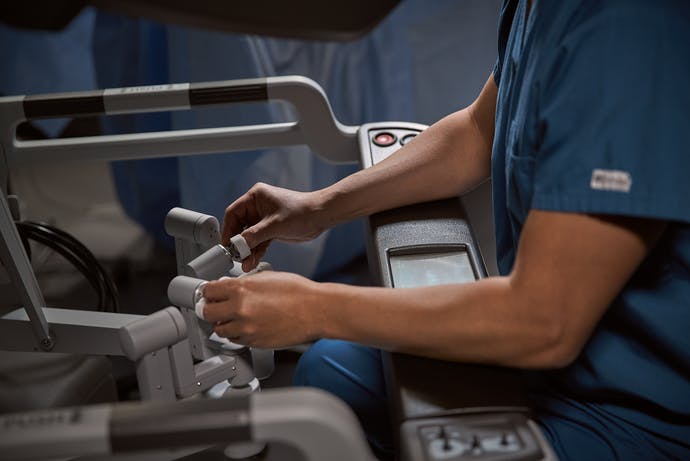 "By providing surgeons the right tools and resources, the hospital in turn, increases the quality of care for our patients," said Edward Mirzabegian, Chief Executive Officer of Antelope Valley Medical Center. "By adding this new technology, we're seeing patients recover faster, with less pain and have the ability to return to regular activities quicker."
Antelope Valley Medical Center places patient safety as its top priority, and continues to exercise safety protocols to ensure our patients and staff are in a safe and caring environment. We also understand how important it is for patients to have their own support team present, therefore, the hospital allows two visitors per patient undergoing surgery. In addition, to minimize patient exposure risk, AVMC requires COVID testing before surgery, and has also redesigned the admission experience to minimize patient contact.
Do not prolong needed surgery, check with your surgeon or primary care physician to decide what the best course of action is for your individual health care needs. Visit www.avmc.org/surgery for more information.
About Antelope Valley Medical Center
Antelope Valley Medical Center (AVMC), the only full-service, acute-care hospital in the Antelope Valley. AVMC has been delivering exceptional care to the community since 1955. It offers the region's only Level II Trauma Center, Pediatric unit, NICU, Inpatient Mental Health Department, Labor and Delivery, Accredited Chest Pain Center/STEMI Receiving Center, Advanced Primary & Comprehensive Stroke Center and Comprehensive Community Cancer Center. AVMC is now a Thrombectomy Capable Center. More information is available at www.avmc.org or by calling (661) 949-5000. Follow us @avmedicalcenter
About the da Vinci surgical system
There are several models of the da Vinci surgical system. The da Vinci surgical systems are designed to help surgeons perform minimally invasive surgery. Da Vinci systems offer surgeons high-definition 3D vision, a magnified view, and robotic and computer assistance. They use specialized instrumentation, including a miniaturized surgical camera and wristed instruments (i.e., scissors, scalpels and forceps) that are designed to help with precise dissection and reconstruction deep inside the body.