Happy Retirement Pam! - Welcome Desiree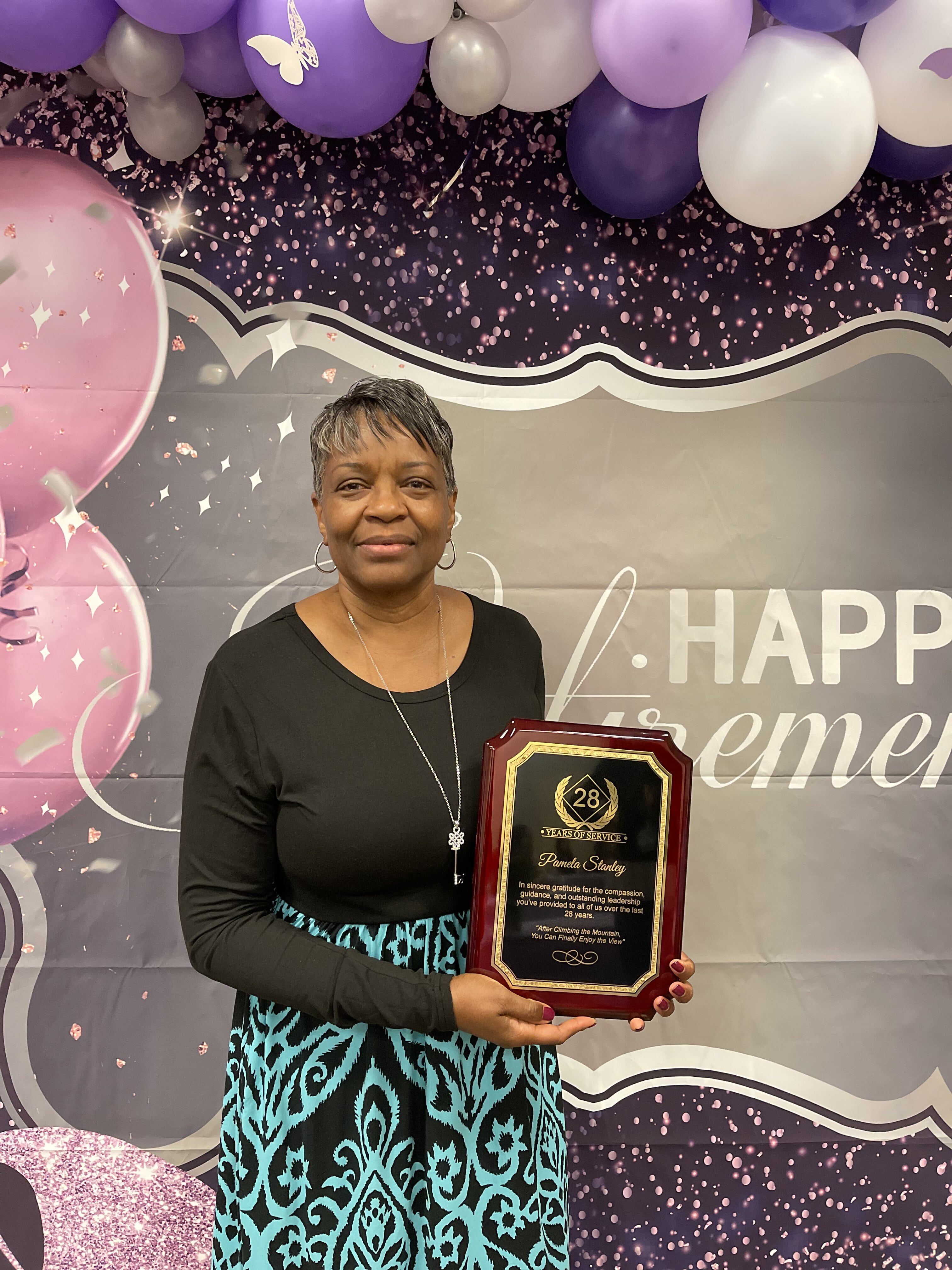 Pamela Stanley, our WIC Program Director/Registered Dietitian for Antelope Valley Medical Center will retire on June 3, 2022.  Pamela has 28 years of service with the hospital. She held several positions in the WIC Program including Site Supervisor and WIC Program Coordinator, and in 2005 was promoted to WIC Director. Pamela oversees two WIC sites where the staff provides nutrition education, breastfeeding support, referrals for services not covered by WIC and issues electronic benefits for healthy foods to 12,000 young families every month in the Antelope Valley.
Over the last 28 years, Pamela has enjoyed being part of the collaboration and connection between the WIC Program, the hospital and the community organizations that benefit the families of the Antelope Valley. For Pamela, working for WIC has never seemed like a job, "the WIC Program staff are my second family, they are the most dedicated, passionate, and resilient chosen family I could ever have. I am very proud to work for Antelope Valley Medical Center and I will miss the professional relationships that develop from working at one place for almost 30 years" said Pam.  
Pam will be dearly missed, but we wish her an amazing retirement and hope that she will indulge in the years to come as she certainly has earned it. While Pam may be leaving, she leaves the WIC department in good hands, and it is our pleasure to introduce Desiree Rivas as the new Director for WIC. 
Desiree Rivas has been an Antelope Valley Medical Center employee for the past 14 years. She was hired in 2008 as a Diet Aide in the Dietary Department where she would continue to work for 5 years along with pursuing her degree in Nutrition at California State University Northridge. In 2010 Desiree obtained her Bachelors of Science in Nutrition and Dietetics and in 2013 was hired at the AV WIC (Women's Infant and Children's Program) as a degreed nutritionist. Working for WIC she developed a passion for community nutrition and breastfeeding support and went on to also pursue her International Board Certified Lactation Consultant license in 2018 and received her Registered Dietitian License in 2020. After working at WIC for 8 years Desiree was given the opportunity of becoming the next WIC Director by the current Director Pamela Stanley. Desiree is passionate about the WIC program and determined follow in the foot-steps of Pamela Stanley and be a great WIC Director. 
We bid Pam adieu and welcome Desiree in this new role, we wish you both continued success!