AVMC Foundation Celebrates 40 Years of Raising Funds
(LANCASTER, Calif. – July 28, 2015) - The Antelope Valley Medical Center (AVMC) Foundation recently presented a check to the hospital for nearly $1 million, the latest donation in a 40 year history of support for the only full-service acute care hospital in the Antelope Valley.
This latest gift from the Foundation was raised through two special events it sponsored and contributions from supporters throughout the Antelope Valley. These funds will be used to purchase new LED lights for nine surgery suites, orthopedic surgery tables, neuro-surgery tables, beach chair tables for shoulder surgeries, cysto-tables for urology surgeries, and gastrointestinal scopes.
"We are grateful for the support and generosity of the local community and donors who show their commitment to the hospital through our fundraising events," said Johnny Zamrzla, AVMC Foundation chairman. "And we also appreciate our hard working Foundation board and the AVMC executive leadership team whose support and guidance helped us raise even more funds this past year."
In the past five years alone, the foundation has raised more than $3.5 million to support various departments including Pediatrics, Labor and Delivery, Neonatal Intensive Care Unit, Couplet Care, Radiology, Critical Care Unit, Forensic Services Unit, Pharmacy, Home Health, Pastoral Care, Respiratory Services, Mental Health, and Emergency. Funds were also used for nursing scholarships, cardiovascular lab and ultrasound equipment, as well as infusion pumps hospital wide.
That tradition of fundraising will continue with the annual foundation Gala on Saturday, Sept. 19, at the prestigious Ronald Reagan Presidential Library. Proceeds will benefit Antelope Valley Medical Center's pediatric program. Tickets are being sold and sponsors have begun to sign on, including the AVMC Medical Staff with a $10,000 donation. For more information about becoming a sponsor or to purchase tickets visit http://AVMC.org/About/Pages/Events.
"With the support of the AVMC Foundation, we are able to provide state-of-the-art care and services to improve the health of our community," said AVMC Interim Chief Executive Officer Jack Burke. "We are grateful for all of their efforts and for the generosity of the many donors who support our hospital."
About Antelope Valley Medical Center
Celebrating 60 years of caring for the community, Antelope Valley Medical Center is located in the city of Lancaster in northern Los Angeles County. The 420-bed district hospital is a Level II trauma center and provides a full array of medical/surgical services, pediatric treatment, NICU, mental health, cancer care and more. More information is available at www.AVMC.org or by calling 661-949-5000.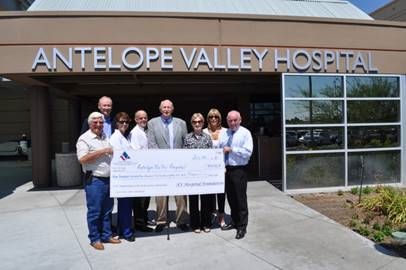 From left to right: AVMC Foundation Board Chairman Johnny Zamrzla; AVMC CFO Paul Brydon; Foundation board members Jennifer Hill, MD; Scott Evans; Hank Marvin, Sr.; Janet Berard; Becky Smith; and AVMC Interim CEO Jack Burke.