Antelope Valley Medical Center Welcomes First Baby Born in 2016
(LANCASTER, Calif.) — While Antelope Valley residents were busy greeting the new year with family and friends, Isabel Hannah Lockshin was greeting the world with her first cries of life at Antelope Valley Medical Center (AVMC).
Thousands are born annually at AVMC, and the cycle begins anew each January with the celebration of the first birth of the year. This year that honor goes to Isabel whowas born in the AVMC Women and Infants Pavilion at 12:27 a.m. via Caesarean section on Jan. 1, 2016. She weighed 7 pounds, 4 ounces; measured 19 inches in length; and was delivered by attending obstetrician, Dr. Dietmar A. Habeck for Dr. Barry J. Berman, the mother's obstetrician throughout her pregnancy.
Isabel is the first child born to Steven and Erica Lockshin from Lancaster. "We were very happy to meet her," said new mom, Erica. "And we are so grateful for the wonderful care she received at Antelope Valley Medical Center on the day of her arrival, and now in the NICU as she gets stronger and we prepare to bring her home."
Isabel was born at risk for hypoxic ischemic encephalopathy, which is a lack of oxygen and blood flow to the brain. Following her delivery, she was transferred to UCLA for body cooling to help prevent neurological damage. Studies show the cooling needs to start within six hours of birth in order to be effective. Isabel was cooled for 72 hours and follow-up testing indicates she is doing very well. She was recently transported back to theneonatal intensive care unit (NICU) at AVMC where she is being attended to by Neonatologist Dr. Murugesa M. Thangavel. AVMC recently purchased this specialized cooling equipment and will begin using it in early 2016.
"We are so happy that baby Isabel is doing well and on the road to recovery," said John Rossfeld, AVMC chief executive officer. "We are glad we could take part in getting her off to a good start, and we wish her a lifetime of good health and happiness."
Tens of thousands of Antelope Valley residents have been brought into the world at AVMC since its doors opened in 1955. In fact, more than 5,400 newborns were delivered at AVMC's Women and Infants Pavilion in the past 12 months alone. As the community's first baby of 2016, Isabel and her parents were given a large gift basket from AVMC that included a variety of baby items, such as an infant car seat, blankets, clothes, shoes, supplies, crib accessories and stuffed animals.
The Women and Infants Pavilion, AVMC's spacious maternity care facility, houses a complete array of obstetrical and newborn services. It features 39 private "Couplet Care" rooms that are furnished with special beds and bassinets so that the mother and baby can stay in the same room until they go home. The facility is also home to a level 3b community NICU equipped with 20 private rooms to care for newborns with special needs as well as three technologically-advanced surgery suites.
In 2015 AVMC was designated a Baby-Friendly Birth Facility which means that the hospital has met the gold standard in maternity care operations. And for the past five years, AVMC has been acknowledged for its outstanding maternity services by receiving the Healthgrades® 5-star Maternity Care Excellence Award. This award recognizes hospitals that provide consistent high-quality care for women and their babies during pregnancy, delivery and the first few days after delivery.
About Antelope Valley Medical Center
Antelope Valley Medical Center, a 420-bed district hospital located in the city of Lancaster in northern Los Angeles County, has been caring for the community for more than 60 years. The area's only full-service hospital, AVMC provides a full array of medical/surgical services, pediatric treatment, NICU, mental health, cancer care and more. It is a Level II trauma center, Accredited Chest Pain Center and Advanced Primary Stroke Center. More information is available at www.AVMC.org or by calling 661-949-5000.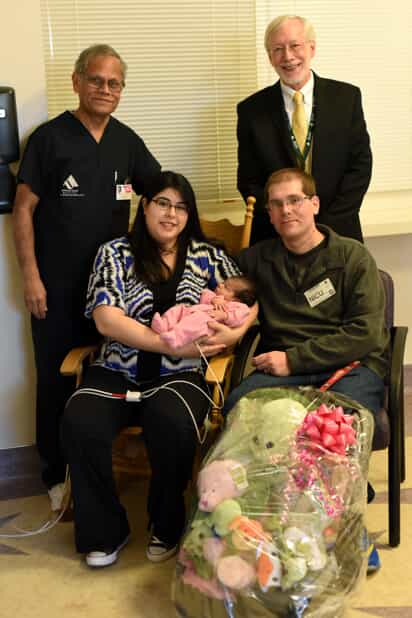 AVMC Neonatologist Dr. Murugesa M. Thangavel and AVMC Chief Executive Officer John Rossfeld congratulate parents Erica and Steven Lockshin on the arrival of their first child Isabel Hannah Lockshin.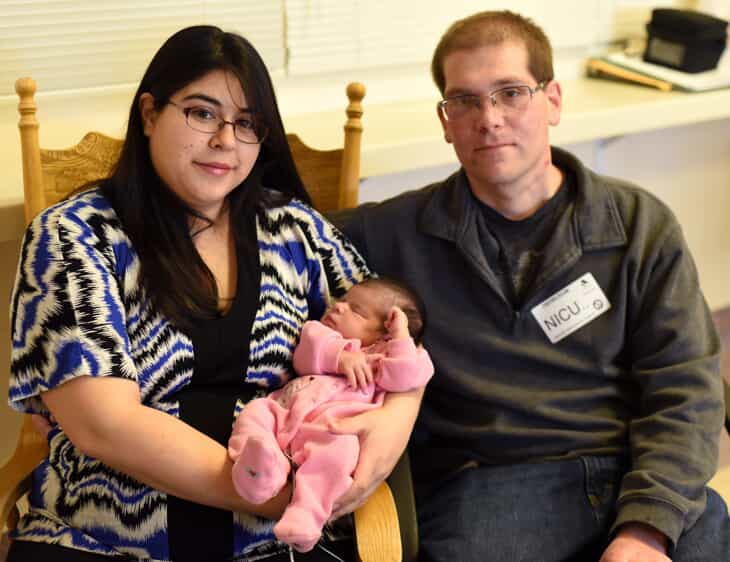 Proud Parents, Erica and Steven Lockshin spend time in the AV Hospital NICU with baby Isabel.