Flag-Raising Ceremony Honors Donate Life Month
Antelope Valley Medical Center (AVMC) joined thousands of hospitals across the nation in recognizing National Donate Life Month with its annual flag-raising ceremony. Donate Life Month is designed to encourage Americans to register as organ, eye and tissue donors and to honor those who have saved lives through the gift of donation.
Hospital personnel were joined by representatives from organ donation organization, OneLegacy, and community members as they reflected on the impact of donation and raised the new flag up the flagpole in front of the hospital. "I've never encountered a facility more dedicated to organ, eye and tissue donation," said Samantha Watson, OneLegacy manager of donation development as she reflected on AVMC's commitment.
Brian Hinsley, a retired Los Angeles County firefighter and OneLegacy ambassador, shared his story of receiving a donor's liver. "Through the efforts of community hospitals like Antelope Valley Medical Center, you are able to save lives like mine," said the transplant recipient.
In California alone nearly 22,000 people are waiting to receive a lifesaving transplant. A single organ donor can save the lives of up to eight people and improve the lives of as many as 75 more by donating their corneas and tissue.
National Donate Life Month recognizes the generosity of those who have saved and enhanced lives by becoming donors, while also highlighting the critical need for more people to sign up to be donors. To become a donor, people may register at the local DMV or online at donatelifecalifornia.org.
To help facilitate organ recovery and placement, AVMC is one of more than 200 hospitals and 11 transplant centers in Southern California and works directly with OneLegacy, the largest nonprofit organ, eye and tissue recovery organization in the world.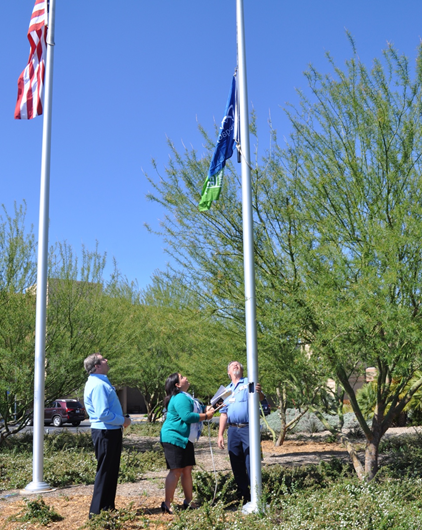 Antelope Valley Medical Center CEO Mike Wall (left) with Angela Bolaris, OneLegacy donation development coordinator, and AVMC employee Andy Thompson raise the new Donate Life flag outside the main entrance to the hospital.