Two Nurses Honored with DAISY Awards
Antelope Valley Medical Center (AVMC) nurses Tram Che, RN, BSN, and Roxanne Woody, RN, have been honored with DAISY Awards, an internationally respected honor that recognizes extraordinary nursing care.
Che, a progressive care unit nurse, has been with AVMC since 2004. She was nominated for her consistently helpful adept and dedication to teamwork. Known for her adeptness at starting ultrasound-guided IVs, Che is often called upon to help in various departments. The nomination reflected on her willingness to gather all the necessary supplies and assist her co-workers in providing exceptional patient care.
"Tram is an outstanding nurse and co-worker," said Ruth Lynn, RN. "She truly loves her job and sharing her expertise."
Woody, a medical/surgical nurse, joined the hospital 14 years ago. Her caring nature and willingness to go above and beyond her normal duties caught the attention of her colleagues. In her nomination, they told the story of an elderly patient whose wife didn't drive and had no way home. Quick to solve the problem, Woody paid for an Uber ride for the woman and later called to make sure she'd made it home safely.
"Roxanne is a shining star to our patients, their family members and her coworkers," said Laura Benesch, MSN, a nursing administrator. "She is the type of nurse you want beside you in an emergency, caring for your loved ones. She is truly deserving of the DAISY Award, not just for her actions on this day but for how she cares for everyone every day."
AVMC has been participating in the DAISY Award program since 2012. Local recipients are selected based on their clinical expertise and demonstration of extraordinary compassionate care. Nominations are submitted by patients, physicians and co-workers. The AV hospital DAISY team reviews all submissions and selects the nurse honoree.
DAISY is an acronym for Diseases Attacking the Immune System. The DAISY Award is a collaboration of the DAISY Foundation and the American Organization of Nurse Executives, and was established in 1999 by the family of J. Patrick Barnes following his death due to complications of an auto-immune disease. It is not required that nurses have cared for someone with an immune system disease to be eligible for the DAISY award.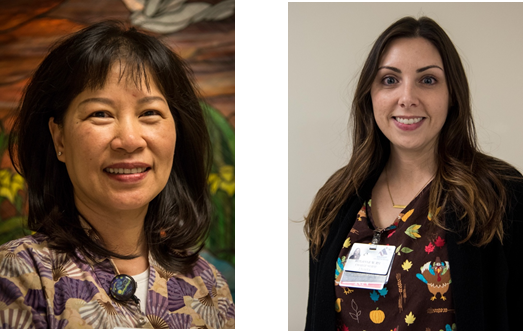 Tram Che, RN, BSN and Roxanne Woody, RN.