Community Appointees Sworn Into Board Office
Local business leaders Kevin Von Tungeln, Regina Rossall and Steve Baker were sworn-in as members of the Antelope Valley Medical Center, Inc. Board of Directors at an official ceremony on May 23. Hospital Chief Executive Officer Michael Wall, who was appointed as an ex-officio member of the board, was also sworn-in.
The oath of office reflected each member's commitment to abiding by state laws, prudent stewardship of healthcare district resources, and respectful consideration of fellow board members' and local residents' views.
These four individuals along with the five publicly elected members of the Antelope Valley Healthcare District (AVHD) Board of Directors will constitute the newly created nine-member AVMC Inc. board, which is a provision of Measure H. The measure, which was passed by an overwhelming majority last fall, established Antelope Valley Medical Center, Inc. as a 501(c)3 nonprofit organization that is an instrumentality of AVHD.
"The community has clearly been ready for greater stability and accountability from their hospital," said AVHD Board Chair Kristina Hong, RN, NP. "With all nine members of the board in place, we can continue building upon the hospital's recent success and ensure a stronger, more vibrant hospital for generations to come."
About the appointed community representatives
Steve Baker has served as the executive director of Grace Resource Center, an emergency food distribution center, since 1991 and has lived in the Antelope Valley for more than 50 years. Grace Resource Center helps connect underprivileged people to food, jobs, clothing, counseling and support. Steve has been affiliated with various community groups over the years including Lancaster Sunrise Rotary Club, Antelope Valley YMCA and the Antelope Valley Homeless Coalition.
Regina Rossall, a 47-year resident of the Antelope Valley, serves as the superintendent for Westside Union School District. She has been on a number of community boards ranging from educational services like the Antelope Valley College Foundation to economic groups like Antelope Valley Board of Trade. Regina also is a member of the Alpha Charter Guild, which helps fundraise for the hospital.
Kevin Von Tungeln is president of Thompson Von Tungeln, a legal firm that specializes in estate planning. He is on the board of directors of seven different nonprofit organizations, including Grace Resource Center, Antelope Valley Sheriff's Booster Club and Lancaster West Rotary, among others. A 27-year resident of the Antelope Valley, Kevin frequently donates blood to the AVMC Blood Donor Center.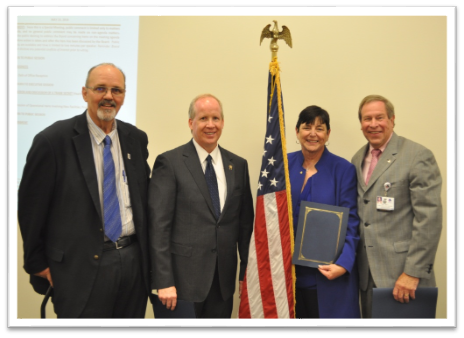 From left: Steve Baker, Kevin Von Tungeln, Regina Rossall and Mike Wall.