Students Forge Health Careers with Scholarships
The Antelope Valley Medical Center (AVMC) Auxiliary presented $1,000 scholarships to 12 local high school seniors. Chosen from a pool of 72 applicants, each recipient has a minimum 3.5 grade point average and has been accepted to study a health career curriculum at an accredited college, university or technical school.
"It is encouraging to see so many students from the Antelope Valley choose to enter the healthcare profession where their skills and expertise will be needed to provide patient care," said AVMC Auxiliary Scholarship Chair Marsha Pedersen. "It is our hope that many of these recipients will return home to care for friends and family when they complete their studies."
The following students were the recipients of this year's awards:
Ivy Ta, William J. "Pete" Knight High School
Sophia Digiovanni and Hunter Daly, Littlerock High School
Tasnia Chowdhury, Salma Fawzi, Brian Paek and Alondra Melendez, Highland High School
Austin Adams, Palmdale High School
Jouli Safi, Lancaster High School
Seerat Chawla, Danae Castillo and Diane Castillo, Quartz Hill High School
The AVMC Auxiliary raises funds for the hospital through the hospital gift shops, New to You Thrift Shop, auxiliary bake sale and other seasonal fundraising events. In addition to its annual health career scholarships program, some of the auxiliary's past pledges benefited the Women and Infants Pavilion, OB clinics, neonatal intensive care unit, emergency department expansion, and state-of-the-art equipment for the critical care unit.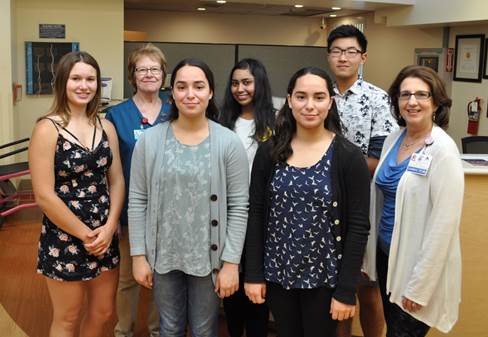 Pictured from left to right (back row): AVMC Auxiliary Scholarship Chair Marsha Pedersen, Tasnia Chowdhury and Brian Paek. Front row: Hunter Daly, Diane and Danae Castillo and AVMC Director of Volunteer Resources Mary Binkowski. Not pictured: Ivy Ta, Sophia Digiovanni, Salma Fawzi, Alondra Melendez, Austin Adams,Jouli Safi and Seerat Chawla.