A Mural to Bridge the Arts and Mental Health Services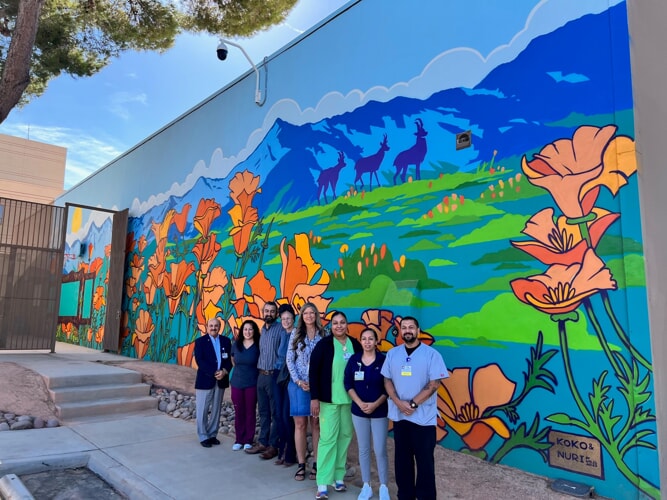 MOAH & AVMC collaborate as part of the Antelope Valley Walls Festival
(LANCASTER, Calif., September 16, 2022) — Antelope Valley Medical Center's mural will be 1 of 16 new murals being added to the cities of Lancaster and Palmdale during the week's Antelope Valley Walls Festival from September 11 through September 17, 2022. Art has an influential effect, where research shows that it can reduce stress, lower anxiety levels and improve a mood.
"We know art is a powerful tool for self-care and mental health," said Edward Mirzabegian, AVMC CEO. "It was important for us to provide a space where both our patients and staff can enjoy."
Local artists Koko Brown and Nuri Amanatullah proudly present "Oasis", a sprawling mural at the mental health unit of Antelope Valley Medical Center. Using a bright and uplifting color palette, the mural depicts a landscape with local fauna scattered throughout a field of poppies. A portion of the mural inside the mental health unit features frames for patients to express themselves and create their own works of art. Highlighting the natural beauty of the area was a key component in providing a tranquil and engaging viewing experience for both patients and hospital visitors.
"Projects like these are an integral part of establishing a sense of place making, and a connection with the community," said Nuri Amanatullah, lead Illustrator and Designer. "We are honored to have the opportunity to work with both AV Medical Center and MOAH on this special project that will help bring joy to visitors, patients, and Antelope Valley residents."
"The City of Lancaster recognizes the connection between art and the quality of life for our community, we are thrilled to partner with AV Medical Center in bringing this stunning contemplative mural to Lancaster's residents," said Andi Campognone, City of Lancaster Manager of Arts and Museums.
The AVMC mural will be located at 1600 West Avenue J, Lancaster CA 93534 on the North West side of the hospital campus. The wall is located adjacent to the hospital's mental health recreational area.
The Antelope Valley Walls Festival 2022 will be held on Saturday, September 17, 2022 from 4:00 p.m. to 9:00 p.m. with various fun activities for the family. This free general admission event will be held at American Heroes Park (701 W Kettering St). It includes live music, cultural performers, chalk artists, a car show, arts and crafts, a beer garden, food trucks, and more.
About Antelope Valley Medical Center
Antelope Valley Medical Center (AVMC), the only full-service, acute-care hospital in the Antelope Valley. AVMC has been delivering exceptional care to the community since 1955. It offers the region's only Level II Trauma Center, Pediatric unit, NICU, Inpatient Mental Health Department, Labor and Delivery, Accredited Chest Pain Center/STEMI Receiving Center, Advanced Primary & Comprehensive Stroke Center and Comprehensive Community Cancer Center. AVMC is now a Thrombectomy Capable Center. More information is available at www.avmc.org or by calling (661) 949-5000. Follow us @avmedicalcenter
About Museum of Art and History
The Lancaster Museum of Art and History is dedicated to strengthening awareness, enhancing accessibility, and igniting the appreciation of art, history, and culture in the Antelope Valley through dynamic exhibitions, innovative educational programs, creative community engagement, and a vibrant collection that celebrates the richness of the region. For more information, please visit: www.lancastermoah.org.