AVMC Celebrates Milestone Achievement: 100th Transcatheter Aortic Valve Replacement Procedure Successfully Completed
Antelope Valley Medical Center's cardiology department proudly announced a significant milestone in its commitment to delivering cutting-edge cardiovascular care to the community, as they completed their 100th Transcatheter Aortic Valve Replacement (TAVR) procedure, marking a momentous achievement in the field of minimally invasive heart care.
"As a community leader in the implementation of a Structural Heart program that includes Watchman and TAVR procedures for the treatment of A-Fib and valvular heart disease, it is imperative as custodians of our community's health to continue the advanced treatment for heart disease", said Sameh F. Gadallah, M.D., Interventional Cardiologist & Cath Lab Medical Director at AVMC. "In collaboration with our cardiologists and cardiothoracic surgeons, we are now able to provide procedures that were once only performed at large tertiary centers in major urban cities."
TAVR is a minimally invasive procedure to replace diseased aortic valves, without performing open-heart surgery. The aortic valve is a vital heart structure that tends to degenerate and malfunction as patients age. The traditional way to replace the aortic valve is through open-heart surgery, a major procedure where recovery is typically long and painful. TAVR, instead, delivers a new tissue aortic valve, without the need to open the chest or stop the heart. The TAVR procedure has been around for nearly 10 years, and is now considered the standard of care, as it has proven equivalence and/or superior to surgical valve replacement. Patients who undergo TAVR are typically discharged after an overnight stay in the hospital. This procedure is available for people with symptomatic severe aortic stenosis at low, intermediate or high risk for standard valve replacement surgery.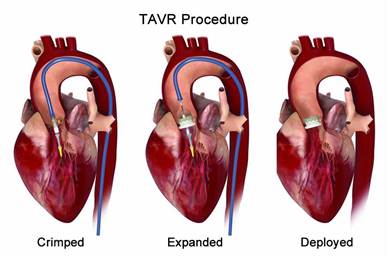 "While it is easy to maintain the status quo, it is not beneficial. We will continue to strive toward cardiac excellence that in turn will improve the health of our community as a whole. Reaching our 100th TAVR milestone is only possible with the dedication of our hospital's administration, physicians, and cath lab staff", said Dr. Pramod Kadambi, Chief of Staff at Antelope Valley Medical Center.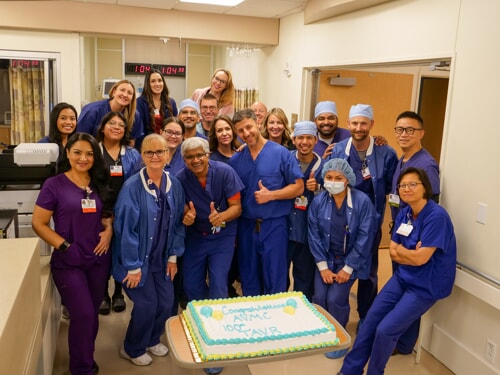 To learn more about the cardiology services offered by Antelope Valley Medical Center, visit www.avmc.org/heart.
About Antelope Valley Medical Center
Antelope Valley Medical Center (AVMC), the only full-service, acute-care hospital located in Lancaster, CA. AVMC has been delivering exceptional care to the community since 1955. It offers the region's only Level II Trauma Center, Pediatric unit, Level IIIB NICU, Inpatient Behavioral Health Department, Labor and Delivery, Accredited Chest Pain Center/STEMI Receiving Center, Advanced Primary & Comprehensive Stroke Center and Comprehensive Community Cancer Center. AVMC is now a Thrombectomy Capable Center. More information is available at www.avmc.org or by calling (661) 949-5000. Follow us @avmedicalcenter