AVMC Validated as a Top Level EMRAM Hospital
The model enables hospitals to strengthen organizational performance and health outcomes.
(LANCASTER, Calif., June 22, 2023) — Antelope Valley Medical Center (AVMC) received its certificate for the HIMSS Electronic Medical Record Adoption Model (EMRAM) Stage 7 Validation. Internationally, hospitals use EMRAM to optimize digital work settings, improve performance and financial viability, build a sustainable workforce, and support an exceptional patient experience. Only 14% of hospitals in the United States have achieved this level of medical record adoption, bringing together people, process, and technology.
Antelope Valley Medical Center uses several tools for its antimicrobial stewardship program allowing pharmacists to advance the appropriate use of antimicrobials to support their goals of reducing overall antibiotic use for non-bacterial diseases, optimizing antibiotic use for bacterial infections, and improving patient outcomes while eliminating unnecessary patient-care costs. Leveraging information digitally enhances patient safety and satisfaction by reducing errors in care, length of stay for patients, and duplicated care orders. In order to achieve Stage 7, organizations must:
Improve Patient Safety - Evaluate and improve patient safety by optimizing EMR implementation to provide access to critical information when and where clinicians need it.
Increase Patient Satisfaction - Reduce time and errors in care delivery and increase patient satisfaction. Enhance care delivery by having the right information at the right time for both the patient and the clinician.
Support Clinicians - The EMRAM ensures an effective workflow and content in the digital tool meets the needs of the clinical teams while monitoring compliance with approved standards.
Secure Data - Effective hospital policies and governance for data security are critical components of a successful EMR implementation, in addition to the level of access available to clinician teams and others within the organization.
We are proud of this achievement and of everyone involved that helped reach this goal," said Edward Mirzabegian, AVMC Chief Executive Officer. "Our goal is to stay at the frontline of clinical technology, security, and operational efficiencies to provide the best clinical care."
For more information about Antelope Valley Medical Center, please visit www.avmc.org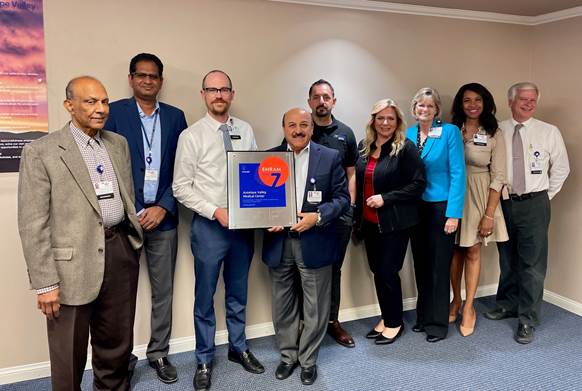 Antelope Valley Medical Center Administrative team and IT leadership proudly display hospital's EMRAM stage 7 recogintion.