AVMC Welcomes New Pediatric Medical Director
(LANCASTER, Calif., November 15, 2023) — Antelope Valley Medical Center is pleased to announce the appointment of Dr. Suraj R. Batish as the new Pediatric Medical Director. With an extensive background in pediatric care and a commitment to providing exceptional healthcare to children in the Antelope Valley community, Dr. Batish is a valuable addition to our team.
As the region's only pediatric unit, AVMC meets the needs of sick and injured children, with specialized, compassionate, and family-centered care. Specially trained pediatric nurses offer the highest quality nursing care to our younger patients. AVMC's local pediatricians collaborate with pediatric hospitalists who are available 24 hours a day. AVMC also has a Child Life Program that assists children and their families to ensure the child's emotional well-being with age-appropriate play therapy, stories, toys, games, music, art, and imagination.
"We are excited to welcome Dr. Batish to AVMC as our Pediatric Medical Director," said Edward Mirzabegian, Chief Executive Officer, Antelope Valley Medical Center. "His expertise and passion for pediatric medicine align with our commitment to delivering the highest standards of care to our community, and are confident with his leadership that our pediatric services will continue to thrive and grow."
Dr. Batish brings a wealth of experience and a dedication to pediatric medicine. He earned a medical degree from the Northeast Ohio Medical University, and went on to earn his Master of Public Health degree from George Washington University in Washington D.C. Dr. Batish completed his Pediatric Residency in Loma Linda Children's Hospital. During his studies, he was involved in community service projects focused on childhood obesity and education. Most recent accomplishments include receiving a Hospitalist Award, and Pediatrics Resident Teacher of the Year.
"I'm honored to be part of AVMC, and I look forward to working with a talented and loyal team of healthcare professionals. My goal is to provide the best possible care to children in the Antelope Valley, ensuring their well-being and health," says Suraj R. Batish, MD.
For more information about the pediatric services at Antelope Valley Medical Center, please visit www.avmc.org/peds.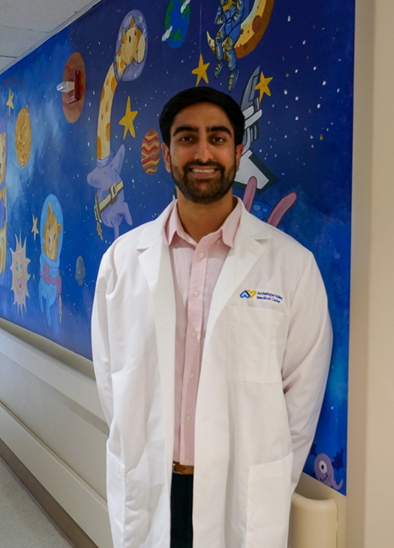 Photo caption: AVMC Pediatric Medical Director, Dr. Suraj R. Batish stands in new pediatric unit, located at the Women and Infants Pavilion.