VigiLanz Announces Winners of 2023 Vigi Awards
Award winners recognized for optimal and innovative use of clinical surveillance to support and improve patient care
MINNEAPOLIS, Aug. 29, 2023 /PRNewswire/ -- VigiLanz, a clinical surveillance company, today announced the winners of the annual Vigi Awards, which honor innovative hospitals throughout the United States.
The Vigi Awards recognize how hospitals have used clinical surveillance to enhance patient care. The award winners are selected by VigiLanz based on nominations of individuals and teams submitted by VigiLanz customers. All award winners receive a donation to a charity of their choice.
"We are incredibly proud of this year's Vigi Award winners and it is an honor to have the opportunity to recognize their many accomplishments and advances in patient care," said David Goldsteen, MD, CEO of VigiLanz. "Their continued dedication to improving safety and clinical outcomes is making a tremendous difference in the lives of patients, families, and health care providers across the country."
5-Star Patient Care: Keck Hospital of USC, Los Angeles, California
Recognized for:
Enhancing medication safety by creating a safety net process for medication protocols.
Improving efficiencies in pharmacist time management.
They Did What? Wow!: Sharp Memorial Hospital, San Diego, California
Recognized for:
Supporting a best-in-class program to optimize care for older patients, from pre-admission through discharge and follow-up.
Regularly identifying care improvement opportunities.
Infection Prevention Team of the Year: Northern Arizona Healthcare, Flagstaff, Arizona
Recognized for:
Decreasing hospital acquired infections (HAIs).
Reducing the number of patients in unnecessary isolation.
Lowering exposure-related costs.
Stewardship Superstars: Keck Medicine of USC, Department of Pharmacy, Los Angeles, California
Recognized for:
Identifying and supporting quality improvement projects.
Accessing granular data regarding antibiotic utilization in high-usage areas.
Tracking compliance rates with guidelines, such as related treatment duration.
Standing Ovation:Jackson-Madison County General Hospital, Jackson, Tennessee
Recognized for:
Enhancing hospital acquired infection prevention efforts.
Creating a system-wide approach for infection prevention.
Pharmacy Team of the Year: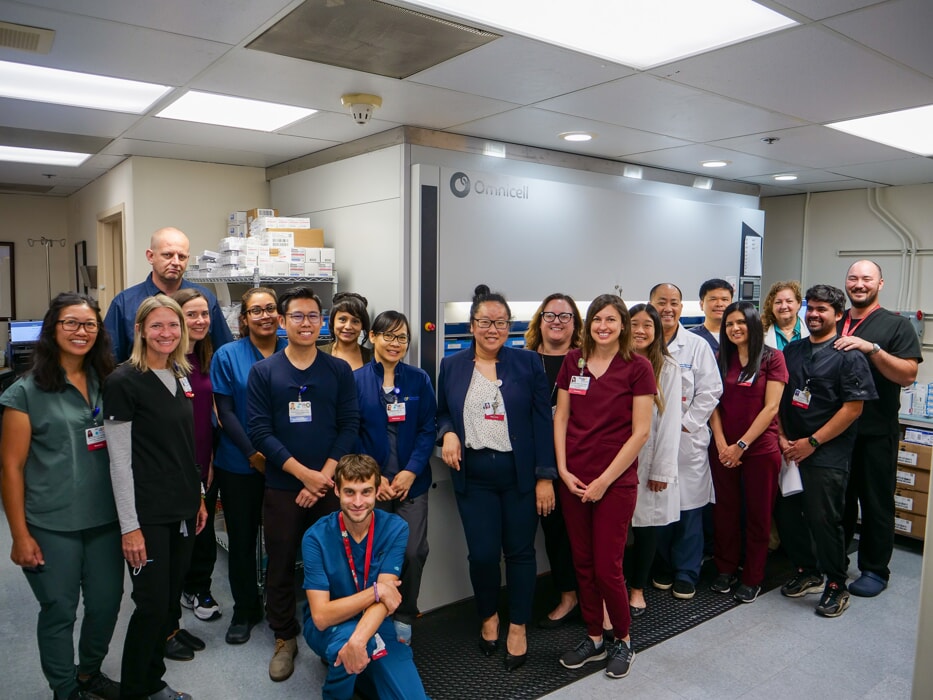 Antelope Valley Medical Center, Lancaster, California
Recognized for:
Developing a proactive pharmacy assessment tool that is now available across the country.
Rising Star: Inspira Medical Center Mullica Hill, Mullica Hill, New Jersey
Recognized for:
Enhancing the monitoring of adverse drug events (ADEs).
Implementing real-time alerts to identify potential ADEs.
Clinician of the Year: Deksha Taneja, System Director of Infection Prevention, Adventist Health
Recognized for:
Working to improve system-wide standardization and data quality for the infection prevention program across all sites.
Demonstrating exceptional vigilance, drive, and advocacy for patient care.
"VigiLanz reports have been used to alert pharmacists of interaction concerns, high risk medications, and potential for safer future recommendations. These reports have been broadly reported to physicians for process improvement. The team has embraced this technology as a mechanism to improve relationships amongst nursing, therapy teams, providers, and pharmacy. The collaboration has been unparalleled," said Diane Wintz, MD, Sharp Memorial Hospital, Trauma Medical Director and Director for Generational Health.
For more information on the Vigi Awards and the award winners, visit the VigiLanz website.
About VigiLanz
Founded in 2001, VigiLanz is a privately held, rapidly growing provider of SaaS-based clinical surveillance and patient safety technology. The firm is focused on advancing the delivery of data-driven care by transforming complex patient data into meaningful and actionable alerts in real time, helping clinicians identify opportunities to avoid or minimize harm, improve safety, and provide the highest quality healthcare. VigiLanz is a clinical partner to a large and growing community of hospital CMOs, CMIOs, CIOs, quality and safety teams, infectious disease and control specialists, pharmacists, and other clinicians dedicated to innovative, real-time inpatient and outpatient care.
For More Information
John Gonda
(616)-309-4888
jgonda@sage-growth.com