Chief Executive Officer - Edward Mirzabegian, MHA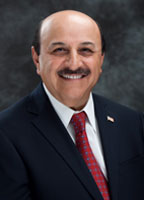 Edward Mirzabegian, MHA brings more than 25 years of healthcare and hospital operations experience to his role as chief executive officer (CEO) of Antelope Valley Medical Center. Known for being an innovative leader, he is committed to developing and implementing strategic plans that identify and promote best practices. He focuses on cultivating staff and physician partnerships while improving the hospital's operational and financial performance.
He returned to Antelope Valley Medical Center (AVMC) as CEO in January 2019, a position he previously held from 2007- 2013 and was chief operating officer for two years before that. During his first term as CEO, Mirzabegian transformed AVMC's financial standing from an accumulated $18 million loss in 2007 to a $24.6 million profit by the end of fiscal year 2010.
Between engagements with AVMC, Mirzabegian served as corporate chief executive officer for Avanti Hospitals Healthcare System, a 470-bed system of hospitals in southeastern Los Angeles. He also held the role of chief operating officer for HealthCare Partners IPA, one of the largest provider/IPA companies in New York with 200,000 patients, where he managed 2,200 primary care physicians and 8,500 specialists. Immediately prior to returning to Antelope Valley Medical Center, he was regional chief executive officer for Prime Healthcare Services, which operates 45 acute-care hospitals in 14 states. Here, Mirzabegian oversaw operations and finances for 15 hospitals throughout California while serving as chairman of the board for West Anaheim Medical Center and La Palma Intercommunity Hospital, which are both based in Orange County.
His impressive career in healthcare leadership has included chief operating officer for Mercy Health System in St. Louis at their St. Mary's facility in northwestern Arkansas; vice president of clinical services at Bromenn Healthcare in Bloomington, Illinois; vice president of operations at Centegra Health System in McHenry, Illinois, which included two hospitals and 24 clinics and ambulatory care centers; and vice president of patient care services at Memorial Medical Center in northern Illinois and Lutheran General Hospital in Park Ridge, Illinois.
Mirzabegian earned a Master of Science in health administration with a focus in health service administration from the University of St. Francis in Joliet, Illinois. He holds a Bachelor of Science in medical laboratory science from the University of Illinois at Chicago. He is a member of the American College of Healthcare Executives and is a frequent speaker on a variety of healthcare and hospital leadership issues.
Most recently, Mirzabegian was nominated for the Los Angeles Business Journal, Healthcare Leadership Award. Additionally, Mirzabegian was spotlighted in the LA Times: C-Suite Leadership magazine for his exceptional leadership qualities within the organization and the community.