Case Management
We give you the tools to ensure a smooth transition.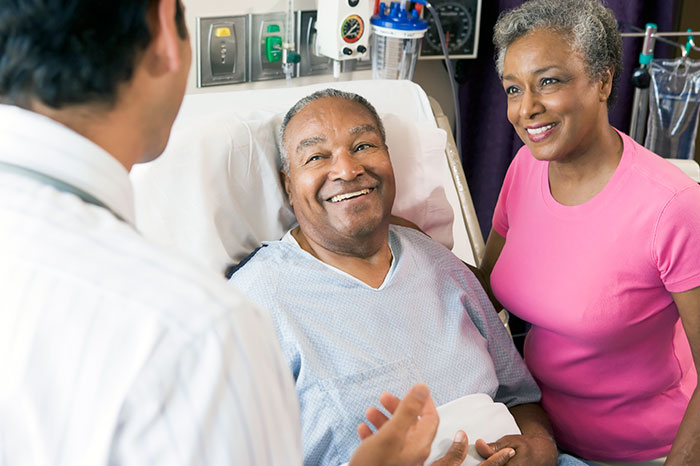 Almost from the moment you enter the hospital, someone is making plans to ensure you have a smooth and safe transition back to the community, whether that's home or to another facility. ​At Antelope Valley Medical Center, this transition process is facilitated by experienced professionals in the Case Management Department.
The Case Management Team is comprised of highly skilled licensed professionals such as RN's, LVN's, and Social Workers. In addition, a team of case management associates are also available to assist with your needs in coordination with the case managers. The department is open 7 days a week.
Case management process includes:
In hospital care coordination and social work support
After hospital care arrangements
After hospital discharge follow up if needed
Case Managers work with patients to develop a specialized care plan based on individual needs and conditions. This process begins when the patient is admitted to the hospital, and includes interviews with the patient, family members of the patient, and physician to accurately identify needs and evaluate options for post hospital care.
Planning Ahead
When your physician decides that you are ready to leave the hospital, a discharge order will be written. You should make transportation arrangements in advance with a family member or friend to help you when it is time to go home. Here are some questions you should ask your doctor while planning for your discharge:
Will I need skilled nursing or therapy services?
When will I be able to resume normal activities?
Should I arrange for a ride home or for transportation during my recovery?
Will I need someone to stay with me during my recovery?
Will I need help with bathing, dressing or toileting when I arrive home?
Will I need to go to a rehabilitation center or nursing home? May I choose the center?
Will my insurance pay for my procedure and aftercare needs?
Are there community programs that provide these services or help pay for these services?
To contact the Case Management Department, call 661‑949‑5025.
Discharge Planning (In Hospital Care)
Discharge Planning is used to determine what you, as a patient, need for a smooth transfer from one level of care to another. Discharge from the hospital does not necessarily mean that you have fully recovered. It often means that your physician has determined that your condition is stable and no longer requires acute hospital care. As a result, the patient discharge process can involve a great deal of information and detailed instructions. Case Managers help patients through this process, and will work with you to develop a specialized care plan based on your needs and condition.
Post Hospital Care Planning (After Discharge Care)
Post hospital care may include home medical equipment, acute rehabilitation, skilled nursing care, custodial care, board and care, home health care and hospice. Case Managers help to coordinate post hospital care while communicating with patient physicians and insurance companies. Case Managers also assist by helping to maximize insurance benefits coverage, and advising if any services or portion of post hospital care will not be covered by insurance.
Social Workers
AVMC social workers are available to provide assistance to patients and family members coping with social, emotional and environmental problems associated with illness or disability. These knowledgeable and compassionate professionals render services by:
Assisting with end-of-life issues
Conducting resource management
Assisting with adoptions and surrogacy
Assisting parents and families of NICU babies
Working with victims of child and adult abuse
Insurance
Until you actually need your health insurance, you may be unsure of what services it will cover. Patients and family members are often surprised to learn that their insurance will not pay for many services and items needed at home. However, your case manager will coordinate with your insurance company to maximize your benefits, and let you know if any services or portion of your care will not be covered.
Levels of Care
Just as there are many levels of care at Antelope Valley Medical Center, from emergency treatment to surgery and intensive care; there are different levels of post acute care. You may ask your case manager to further explain the range of available options and whether your insurance will pay for the services you choose.
Acute Hospital Care
During this phase of care, physicians determine a patient's overall treatment plan. This may include acute nursing care, surgery or invasive testing.
Discharge Home
In many cases, patients and their families are safely able to provide ongoing care at home following a hospital stay. Although some follow up care may still be required, it can often be provided in an outpatient setting and may include such things as additional diagnostic testing, physical therapy and dialysis.
Home Health Care
Many medical services that require the skill of a professional can be provided safely at home through home health care. Common home care services include wound care, physical therapy and intravenous (IV) therapy. A nurse or therapist visits the home for about an hour at a time. Home health does not include basic homemaker services.
Non‑Skilled or Custodial Care
These options are not usually covered by insurance, although some services are paid for through Medi‑Cal or SSI. They include long‑term placement in skilled nursing facilities, board and care homes or assisted living facilities.
Skilled Care
Patients who need a higher level of care following a hospital stay may be referred to an Acute Rehabilitative Unit or a Skilled Nursing Facility (SNF). This allows the continued provision of skilled nursing care, physical therapy or respiratory therapy in a non‑hospital setting.
Due to the limited number of facilities in the region, it may be necessary to locate a SNF outside of the Antelope Valley. Your discharge planner will help locate the closest SNF capable of providing the care you need. A listing with all the Skill Nursing Facilities will be provided to you upon request.
Acute Rehabilitation Unit (ARU)
Patients who have suffered a debilitating injury or illness and who need comprehensive inpatient rehabilitation services to maximize the patient's potential to restore their functioning independence could be transferred to an acute rehabilitation unit. There are various guidelines and requirements in order to meet the admission criteria. These include the patient being able to tolerate three hours of therapeutic services per day, at least five days per week, and the patient must require 24‑hour rehabilitation nursing care. Your case manager will work with your insurance in order to provide you with the closest location that is contracted with your insurance.
Sub‑Acute Care
Patients who require intensive, long‑term care management and require more technically complex treatments such as mechanical ventilation, respiratory services, tracheostomy care, total parenteral nutrition (TPN) and rehabilitation may need to be placed in a sub‑acute facility until stable to go to the next level of care or home. Your case manager will work with your insurance in order to provide you with the closest location that is contracted with your insurance.
Long Term Acute Care (LTAC)
Patients who need to be in an acute care hospital for a long period of time may need to go to a Long Term Acute Care Hospital. These facilities provide continued acute care until transition to a lower level of care or home is possible. While in a LTAC, patients are visited daily by a physician and are provided with the clinical services needed. These may include nutritional therapy, telemetry, ventilator support, intravenous therapy, wound care services, rehabilitation services and critical care services. There are several LTAC facilities in the Los Angeles area, however, none are local.
Congregate Living Facilities
These are facilities that can take up to 6 patients on ventilator. They operate similar to a sub-acute unit in smaller group of patients. There are several in the area. An insurance authorization is necessary before going to these facilities as contracts and approvals vary.
Hospice
Patients who have a confirmed diagnosis of terminal illness, and a limited life expectancy could have hospice care as an option. The physician will provide patient and family clinical information about the disease process, and could recommend hospice care. Hospice care takes place when curative care is no longer appropriate. This type of care focuses on comfort, pain control and quality of care. Hospice care is a service which can be provided in the comfort of the patient's home. If this is an option for a patient the Social Worker or Case Manager could provide a listing of all the hospice agencies that service, the Antelope Valley area and could arrange a consultation with the company of patient's choice.